What is NDT and NDT Career path?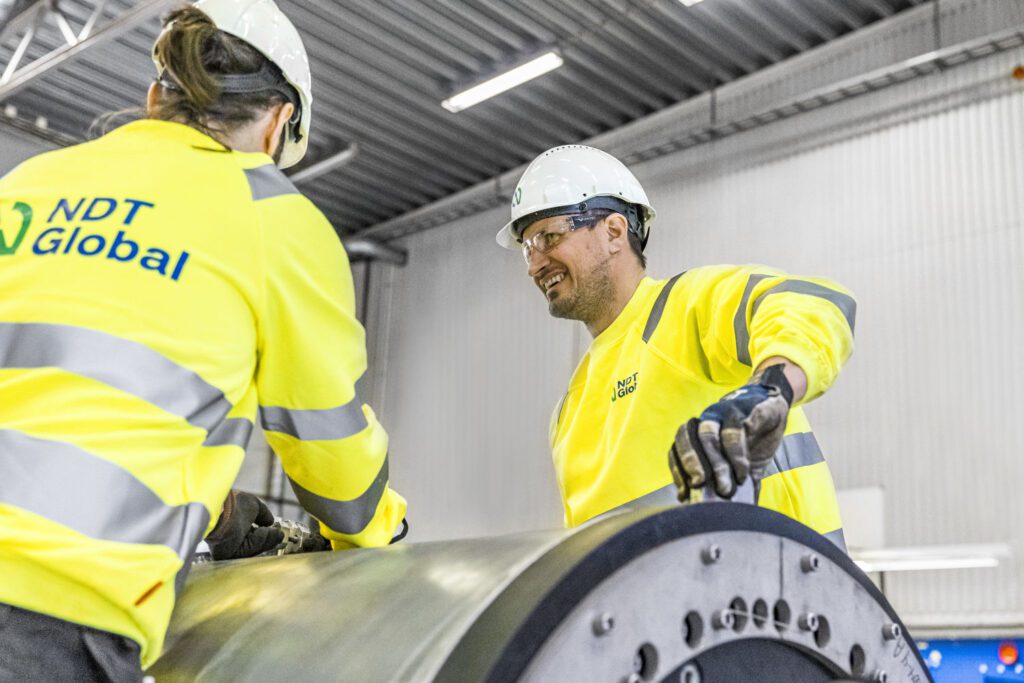 What is NDT
Non-destructive testing (NDT) refers to a class of analytical techniques used to evaluate the properties of an object or component without causing damage to it. Non-Destructive Testing (NDT) is also known as Non-Destructive Evaluation (NDE), Non-Destructive Inspection (NDI), and Non-Destructive Assessment (NDA) (NDE). When used correctly, NDT is a quality assurance management tool that can produce remarkable results. NDT is also used in quality control procedures. It necessitates knowledge of relevant criteria and testing features, as well as an understanding of the various methods available, their capabilities, and limitations. NDT is necessary for everyday life to ensure safety and reliability. Many industries use NDT, including oil and gas, space, energy, electricity, nuclear and chemical power plants, automobiles, and transportation…
Why NDT is important
Non-destructive testing is important quality control and quality assurance management tool in industries such as aviation, pipelines, bridges, refineries, oil platforms, and power plants because it aids in the prevention of failures that could jeopardize safety and reliability. This is a critical process that serves as the foundation for all of their activities.
Every tool, product, and material has a specific design requirement as well as a life span. They may, however, need to be replaced or extensively repaired as a result of manufacturing/production or service delivery defects and malfunctions that were not identified or ignored. Otherwise, catastrophic failures occur when unsafe and unfavorable conditions are not addressed. This could also lead to the project's cancellation.
NDT procedures performed during the manufacturing process or during the service life of a material or component can help protect assets. in addition to ensuring that businesses follow regulations and standards, NDT is used to ensure the efficiency and durability of equipment in addition to security requirements.
NDT testing Methods are following
Radiographic Testing (RT):
Radiography The process of identifying flaws in materials using gamma or X-rays is known as non-destructive testing.
Liquid Penetrant Testing (LPT):
The technique of coating a material with a liquid and then looking for cracks in the liquid to find flaws in the material is known as Liquid Penetrant Non-Destructive Testing.
Magnetic Particle Testing (MPT):
The non-Destructive Magnetic Particle Testing is the process of identifying flaws in a material by examining disruptions in the flow of the magnetic field within the material.
Visual Testing (VT):
Visual non-destructive testing is the technique of acquiring visual data about the status of a material. The most basic method of inspecting a material or object that has not been altered in any way is visual testing.
Ultrasonic Testing (UT):
The process of delivering high-frequency sound waves into a material to detect changes in its properties is known as ultrasonic non-destructive testing.
Eddy Current Testing:
Eddy current non-destructive testing is a type of electromagnetic testing that detects material defects by measuring the intensity of electrical currents (also known as eddy currents) in a magnetic field around the material.
Radiographic Film Interpretation (RTFI):
Only certified level II RT personnel should take this course. Various codes and standards, as well as a number of radiographs with natural flaws, are included.
Advantages of NDT
Safety:
Non-destructive testing is used to ensure that the components or materials used are not damaged or faulty and are fit for use by officers. Based on the results, we can determine whether the components need to be repaired, replaced, or are safe to use. NDT methods cause no component damage and pose no danger to the operator. Comprehensive security can be ensured following an inspection. By using NDT methods to detect, resolve, and prevent failures or defects, catastrophic failures can be avoided and lives saved.
Quality assurance:
NDT testing methods produce reliable and accurate results that are stable and consistent. Because this testing method does not harm the components, all equipment and machinery must be tested to reduce inaccuracy and malfunctions. The assurance gained through scrutiny is a priceless NDT accomplishment. The use of proper NDT methods can ensure the quality of machinery and equipment. As a result, a high-quality operational product or service (project or factory performance) may be produced.
Failure prevention:
Errors and failures that go undetected can lead to problems like machine damage and project shutdown. Project failures and human resource damage are also possibilities. These are easily avoidable with proper NDT use and implementation, as well as corrections recommended by NDT technicians.
Cost-Effective:
NDT methods are the least expensive way to ensure quality and safety. And it is possible to do so without interfering with work.
NDT Career
Jobs abound and can be found in any field. They affect the oil and gas industries, as well as aerospace, automotive, defense, and chemical industries. As infrastructure projects grow in size, so do job opportunities in NDT. Technicians, quality assurance specialists, and inspectors who work with non-destructive materials and structures play an important role in quality control. They play an important role in the completion of engineering work or projects.
Nondestructive testing careers can begin at any age. can start right after graduation or after leaving a job As with most other careers, your qualifications, certification, and experience will determine your NDT career. The more you know, the further you can advance. Obtaining a qualification to test NDT methods opens up new opportunities.
Experience and qualification Knowledge is essential. Minor mistakes can have disastrous consequences in the NDT industry. NDT operators should keep their skills, knowledge, and certifications up-to-date.
ASME and ASNT are two organizations that create NDT standards, codes, and certification bodies.
Level 1 and Level 2 NDT certifications will give you an advantage in the industry if you want to pursue a new career in NDT.
What does an NDT technician do?
Technicians inspect the physical properties of materials and components for damage, corrosion, cracks, defects, and other flaws that can cause product unreliability or, in the worst-case scenario, product failure. They also inspect the plant's machinery to see if any repairs are needed. A non-destructive testing (NDT) technician inspects materials, components, structures, and systems using a variety of techniques and methods to detect structural defects depending on the material and working conditions.
Duties of NDT technician:
Testing the Materials
Interpreting and preparing test reports
Calibrating and Maintaining Equipment
Developing Processes for Safety
Testing the Materials
NDT technicians have the knowledge and wisdom to test various materials based on the material, component, structure, or system under test.
Technicians look for flaws in materials and structures, such as cracks, corrosion, flaws, and other imperfections.
Preparing Test Reports for Material Testing
Every mechanical instrument, piece of equipment, and tool necessitates upkeep. The settings should be calibrated by NDT professionals based on the material being tested. It is also critical to ensure that the equipment is operationally ready following a test.
Calibrating and Maintaining Equipment
Every mechanical instrument, piece of equipment, and tool necessitates upkeep. NDT technicians should calibrate the settings based on the material being tested. It is also critical to ensure that the equipment is operationally ready following a test.
Developing Process for Safety
An NDT technician will develop process checklists, train other NDT technicians, and demonstrate the appropriate machine and material testing methods. Everyone involved in the non-destructive test must be kept safe.
Before deciding on NDT as a career. Examine whether you can develop or process these abilities and interests.
excellent analytical and problem-solving abilities
Interest in science and engineering
Good sense of detail
Will need to be able to utilize a variety of tools and instruments.
Should be mindful of health and safety problems
Good IT skill
Good communication skills.
For more;https://www.twi-global.com/technical-knowledge/faqs/what-is-non-destructive-testing
Importance of Oil and Gas;https://arrowwingsacademy.com/importance-of-oil-and-gas-industry/